Beaches in Panamá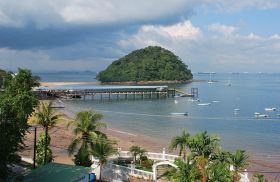 Panamá is located in the central part of the American continent, between North and South América, surrounded by Costa Rica and Colombia.
(Isla Tobago with a view of Isla El Morro in the Gulf of Panama with Panama City in the background, pictured.)

This small, but beautiful country is blessed to be surrounded 100% by the Atlantic Ocean to the north and the Pacific Ocean to the South. It´s a very narrow piece of land, which is one of the reasons why engineers in 1904 made the decision that Panamá was the best place for the water-level canal, which today, is one of the Eight Wonders of the World, a marvel of engineering, especially now where the expansion is under way, for the world's commerce to benefit.

Panamanians love beaches and aquatic sports, and they share all this beauty with visitors. Some beaches are better known that others, and are spread through out the country. We will mention some of them here:

By the Atlantic Ocean:
The main beach is near Portobelo, a very historical town, very important since the 15th century, where gold were carried from South America into Spain. Portobelo offers visitors many restaurants and excellent seafood, including lobster. There is also a nice resort in the area, surrounded by beautiful beaches where you can enjoy scuba diving, snorkeling, and surf. It is the ideal place if you want to spend a different kind of day. There is also Fort St. Lorenzo, a little abandoned at this time, but still, a nice place to visit.
​​(Surfer at Rio Mar Beach, Panama, pictured at right.)
From

Portobelo

, you may like also to visit Isla Grande, a nice island about 15

minutes from there, with nice small hotels, restaurants, beach, boat rides and

a nice hill to hike. You may also like to take the modern tourism/cargo train between both cities, a ride which takes about 1.5 hours and costs US $36.00 round trip and is along the Panamá Canal.
Pacific Ocean:
We can start by mentioning "the causeway", or "Cinta Costera" in the city of Panamá. It is not suitable for swimming, but it is a beautiful path to walk, bike ride, skate, or simply, go to a restaurant of your choice, or take a cruise, or one of the Panamá Canal 4 hour excursion, or the full transit.
Farfán is located in the Port of Vacamonte. Along the way, passing the Canal, through the Bridge of the Americas, you find excellent resorts and the well known Panamá Pacífico, which is an industrial park with over 150 multinationals from all over the world. This beach there is popular among locals, and is located about 30 minutes from the bridge.
Pacific Ocean, "Interior"

. The "Interior" is everything after by the Canal, and is considered "the country." This does not mean that you cannot find 5 star communities and resorts in this area, because there are. It ranges from

Chame

to Boquete and Bocas del Toro, nine hours apart by car. We'll travel in order, from the city.
Arraiján and Chorrera. You will find some beaches and coast in this area, and some lakes where you an enjoy walking, fishing or a boat rides.
Punta

Chame. A

nice beach area with a nice resort. You will also see

mountains in the area. Passing by the beautiful "Cerro

Campana

", the town of

Chame

is a very cute place, located about 90 minutes by car from the city.

From here, you may like to visit the town of

Sorá

, and Altos del

María.
​​(Playa de la Muerte on the coast of the Darien province, pictured right.)
Coronado and

Gorgona

, about 2 km (about 1.2 miles) from

Chame

. Both places very popular among locals and visitors. All the modern

facilities are available, including resorts, hotels, restaurants, pharmacies,

an emergency hospital, condo buildings, three malls, and much more.

Gorgona

connects with

Chame

by the beach, and has beautiful

hills and mountains afar.

From here you might like to take a tour to "El Valle de

Antón

", a

charming,

picturesque

town, with excellent and cool weather,

30 minutes away by car, with lots of curves in the road.

Gorgona

is singular as a result of its black sand beach.
Las

Guías

, San Carlos, Bonaventure, and Punta

Barco

are among other

beaches in this area, offering all kind of restaurants, beautiful high end

condo buildings, villas and resorts.

The list could be longer, but impossible to mention them all.

Along the main highway "

Interamericana

" you are able to buy fresh

fruits, vegetables, natural drinks and other basic needs.
Santa Clara (pictured right), and

Seaclif

, are also very popular, a little bit further down.
Then, you reach the central part of Panamá, approaching

Chitré

, Las

Tablas,

Penonomé

,

Monagrillo

,

Guararé

,

Pocri

,

Pedasí

, and

Tonosí

.

All those towns and villages offer a unique experience to visitors.

It's call the "

Península

de Azuero", and is famous for their folklore,

history and culture.

In

Pedasí

, beaches are

spectacular

and offer a variety of outdoor

adventures.
Also in Central Panamá, there is

Soná

, with the famous San Pablo R

iver, and Santa Catalina, very famous for their international surfing

tournaments. The main town in the area is Santiago.
Then in the very west of the country, there is the province of Chiriquí,

which also offers less known beautiful beaches, not less yet

discovered. This is followed by the area of Puerto

Armuelles

, a bit isolated

and more of an agricultural area, but also with beaches. Locals are more

used to going here.
North West Panamá, by the Atlantic Ocean: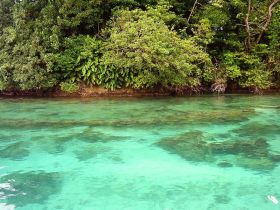 The internationally well known Bocas del Toro, with hundreds of islands, each of them offering a unique experiences to the visitors. This area is very popular the back-packing, and you will see visitors from all over the world enjoying restaurants, hotels and out at the beaches, especially enjoying open sea boat rides, corals. Bocas del Toro is Ideal for surfing, scuba diving, snorkeling, honeymooning, or simply, family reunions. The most popular spot is Isla Colón (Colón Island; which is simple, small, nothing fancy, but fun. A plane ticket to Bocas del Toro is is $200 and takes about 1 hour from the city of Panamá.
​​(Isla Escudo de Veragua in Bocas del Toro, Panama, pictured above. )
North East Panamá, by the Atlantic Ocean
:
The most popular area here is the "Archipiélago of San Blas", a beautiful place with thousands of isles, but only a few of them open to the public. San Blas is inhabited by the "Gunas" (native Indians), and is the place where the famous "molas" are made. The beaches here are similar to the Bahamas. Several tours offer their services to visit San Blas by car or local plane.
(Yandup Island Lodge in Playon Chico, Guna Yalka, Panama, pictured.)
Posted March 04, 2015