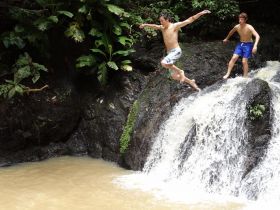 Although new to the world of Adventure Travel, Panama has a lot to offer. Hiking, kayaking, fishing, jungle trekking, ziplining are just a few of the activities that you can now do around Panama.

Depending on your schedule, you can fit a lot of these activities into a week long, or two week long adventure tour of Panama. Try ziplining in Boquete, surfing on the Pacific side or in Bocas, and kayaking or fishing in the Panama Canal.
Wonder what kayaking the Panama Canal looks like? Check out the following video.
Posted August 29, 2015