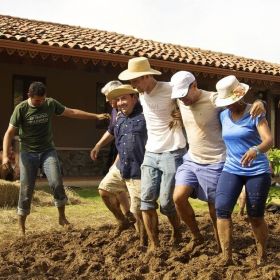 We have different holidays all over the country of Panama.
Specifically in Chitré in the Azuero Peninsula, we have holidays such as Holy Week where there are presentations of the holy birth.
During national holidays, ladies wear polleras, which is the traditional dress of Panamanian women. For many years, polleras were being sold by grandmothers and old ladies from the small towns. Some put jewelry on the polleras such as gold, turquoise, pearls, and many other different gems. Polleras are sold in many different colors and designs. The craftsmanship are of different techniques as well. We also wear tembleques, which is a head ornament worn by women when they wear polleras. Some tembleques are even made of fish scales. They don't smell because they were treated but they are made of real fish scales. You will see the great craftsmanship of Panamanians when you see these polleras and tembleques.
Aside from national holidays, we also use polleras during a holiday in January. You will see more than a thousand women wearing polleras. Traditionally, the gala polleras or the elegant polleras were used in parties and weddings. When women work in the fields or just at home taking care of the children, they use another kind of pollera, which is a less elegant pollera made of a different material. And they don't use tembleques at home. Nowadays, we don't wear polleras to a wedding anymore unless the wedding is a typical Panamanian wedding. If the bride wants to get married in a traditional Panamanian way, she would wear a gala pollera.
Another tradition of Panama is the Junta de Embarre, which is when people from the community gather and build a house made of clay. They step on clay and they get all dirty with it. They dance around the clay and they build the house. In Chitré and in Azuero as well, there are several communities that are making Juntas de Embarre. The whole community gathers to build a house for a fellow neighbor. This is a tradition that is still being done in the small towns and we are trying to save that tradition because people in the mountains do live in these houses that are made of clay. However, in the cities and in the developments, this is not being done anymore. In Cubitá, we take our guests for a tour and show them how a Junta de Embarre is done.
(Cubita Development staff building a clay house the traditional way, Azuero, Panama, pictured.)
Posted April 27, 2016