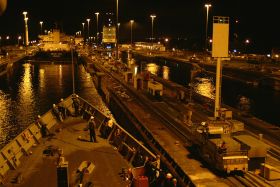 As we always say: Anything can happen in a particular place in the world.
With this said, we can just assume that Panamá is not different from other places. For example, we lived for a time in a small town in northwest Florida, and we DID have blackouts occasionally... and electricity wasn´t cheap.
In Panamá, we can expect some blackouts, yes. Sometimes it takes hours to restore power, and yes, some businesses are hurt, because their product is very sensitive to the heat, like chickens, which has been most of the cases, or mini markets that don't have back-up plant to cover this situation. It is different in high rise or office buildings, which usually do have back-up power.
We have two major electrical providers, depending on the area you live. The most common cause for blackouts are the transformers, that collapse because the excess of population, the result of thousands of foreigners arriving to this country. At the beginning the newcomers were only from the United States, and some from Europe. Now there is a massive exodus from Venezuela, Colombia, and some from Dominican Republic and Nicaragua coming, especially to the city of Panamá, which is very small. Other times, blackouts are due to heavy electrical storms, common in the Tropics.
But fortunately, this is all a minor issue, in that Panamá does not have snow, earthquakes, tornados or any of those major situations like other parts of the world. We are blessed with beautiful weather and extraordinary vegetation and a rainforest all year round.
So, even with minor eventual problems in electricity and water situations, and housing and land prices raising every day, yes, this is sometimes frustrating, but Panamá has been, is, and always will be a paradise, because Panamanians are warm and always welcome visitors.
Not to mention, that in January of 2019, for those interested in international events, Panamá will host one of the most amazing visits: Pope Francis.
(Panama Canal using electrical locomotive to Naval , Panama, pictured. )
Posted October 17, 2017