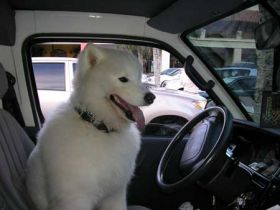 You can apply for a HOME quarantine in Panama for a fee. It is best to work with a Panamanian company to help you with this process. I recommend Golden Frog. Jose will handle all the paperwork and meet you at the airport. Your pet will need to be inspected by a Panamanian vet so make sure to schedule your arrival flight in Panama during normal working hours. And Jose can take you to a pet friendly hotel in Panama City and then transport you and your pet to your final destination in Panama.
Make sure you have all the necessary paperwork to get your pet OUT of your country or the airline will not allow your pet on the plane in cargo.
With all the fees in your country and in Panama, it will cost about $500 to get your pet in to Panama. If you use a pet transportation company it is about $3,000 from the USA.
(Dog transported by Golden Frog pet relocation service, Panama City, Panama,pictured.)
Posted June 05, 2017