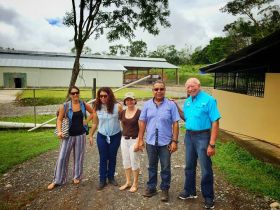 Sadly, many Americans in particular come to Panama with the mantle of the "Ugly American". Many come with North American expectations and not too much flexibility. If you don't learn to adjust to your new environment and your new culture and new language, you might find it to be a struggle.
There are also expats who come to Panama with an open mind, embrace Panama and embrace their culture and as a result, are very happy. For example, it would be difficult to convince my wife to leave Panama.
I find that the reason people who come to Panama and ultimately do leave is that they didn't make the adjustment, or perhaps they had a medical situation that they couldn't solve in Panama because they didn't have the correct insurance or coverage that they may have something else like Medicare, or they just simply missed their family, their grandchildren, etc.
Overall, those expats that make the adjustments are very happy to be here and it would be hard to convince them to leave.
(Expats visiting a mushroom farm, Panama, pictured.)
Posted August 15, 2016