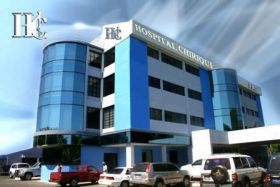 The doctors in Panama are good. I've had quite a bit of experience of having things done throughout the world. It depends on the doctor and your connection with the doctor. For example, twenty years ago, before Panama moved into the medical tourism forte, I was dating a young lady who had a 7-year-old daughter with eye problems. We took her daughter to an ophthalmologist, and to make the long story short, the little girl was diagnosed with optic nerve glioma, which is cancer in the optic nerve.
We took her 7-year-old daughter to a specialist who said, "We're going to have to remove the eye to take care of the cancer in the optic nerve. We will then fit her with a prosthesis." Her eye was removed, the cancer was cut out, and she was treated with radiation. The prosthesis was then installed.
The prosthetic eye that she was fitted with was attached to the oblique muscles that move the eye diagonally. This was cutting edge technology 20 years ago. This prosthesis was connected to the rectus muscle so it articulated. It wasn't as good as a real eye but it moved, and that was cutting edge technology at that time.
That entire process cost $5,500. I looked into it just out of curiosity later, and discovered that the cost for the prosthesis alone in the United States was in the direction of $25,000.
Another example is when about 6 years ago in California where I grew up, I was diagnosed with skin cancer. I was a quasi- surfer in the 60's, so I spent my whole life in the sun. I didn't like going to the doctor so I was putting it off until one day, I finally went to visit one in David, an hour and a half from where I live.
I went in to this clinic in David just to check out the doctor. In Latin America, you realize that a lot of things just shut down during lunch time, which is normally from 12PM – 2PM. I was hoping just to get in there and make an appointment, but the receptionist said, "Well, the doctor's not busy. Why don't you go in and talk to him?" I said, "Really? All I wanted was an appointment," and she said, "No, no, no. Go in and talk to him."
I went into the doctor's office and found him to be a very nice gentleman whose English was much better than my Spanish. I explained to him that I was just there to get an appointment for a future consult and he said, "No, no, no. I have time. Why don't you take off your shirt and let me see?" I said, "I'm not really ready to do this," but he insisted. This doctor had really good bedside manners.
I looked up on the wall and found out that this doctor graduated from a medical school here in Panama, then did postgraduate work in Costa Rica, and he also had paper hanging on the wall that said UC Berkeley. That's how you know his services are world-class.
I told him I would like to come back in a couple of weeks when I get my courage up. In the meantime, he comes over and prescribes Novocain. He also took a scalpel and took a sample from my skin that very clearly showed skin cancer.
He placed this sample in a specimen tray to send out for a biopsy, applied some liquid nitrogen. and cut off six or seven other things that were there, including a couple of polyps. He stitched me up and said, "Why don't you come back in two weeks? I'll take the stitches out and have the results from the biopsy."
I told the doctor that I would be back, and I did after two weeks. He took the stitches out, which left a practically non-visible scar. This doctor did an excellent job. He says, "Good news. The biopsy came back clear. I got all of it out." He looked at the incision and told me there was a lot more work he needed to do on me.
I had a 2 ½-hour contact with an expert, a biopsy, five or six pieces of cancer cut off with some coming from my face, and the total cost was $245 - $450. Whatever it was, I felt like I should kiss him.
Here's another example. I'm an old guy, but I'm still pretty spry. I was jumping up on the back of my tailgate on my little Nissan thinking that it was closed and locked, and I was going to spring over. It turns out that it wasn't locked, so it acted as a catapult and it threw me onto the ground. As I was getting ready to do a face plant I was thinking, "Oh my!"
I tried to roll out of it and I did, hitting my elbow onto a large rock where it exploded just like dropping a watermelon. It made an ugly sound. I dislocated my shoulder, destroyed my elbow and broke my radius and ulna (forearm) in two places. My wife drove me down to Volcán Barú, which is only 35 - 45 minutes away from where we were, to see if they could do anything in their emergency facility, because Volcán Barú only has a small hospital.
When we got to Volcán, they told us that I needed to be taken to David (the closest larger city, about an hour and a half away by car), but they did give me a couple of Demerol shots that took the edge off. When I got to the public hospital where it cost $0.25 to be admitted and $10 for the X-ray, everything was done quickly. The radiologist told me I needed an operation, so he sent me up to the floor where the orthopedist surgeon was.
When I got there, two young doctors in their early 30's looked at my X-ray films and said, "Oh my. You've done a good job here. You need an operation." They tell me, "You're not going to be operated on tonight. This is a public facility, and you have to wait for two to three weeks and stay in here before you have the operation."
Because I went to the public sector, I asked the doctors, who turned out to be interns, if they had a good referral in the private sector, and they recommended their professor whom they referred to as "Cracker Jack."
The interns called their professor who was just coming out of surgery at 9:30 PM, and asked him if I could come over. David has two very good private hospitals: Hospital Chiriquí and Hospital Mae Lewis.
During that night, their professor was performing an operation in Hospital Chiriquí, so my wife drove me over to Chiriquí where I met him. For someone in his late 30's he was a great surgeon. He looked at the X-ray and confirmed that I indeed needed an operation.
Because he had good English, I asked the doctor in a nice way, "Were you a little rich boy whose mom put through school?" He said, "I certainly was not. I went to a public school," and I said, "Great. We can talk." I just wanted to get a feel for who he was because he was going to work on me that night.
That night, this surgeon rolled me into the operating room where he reset my shoulder, put in a state of the art prosthesis, pinned my broken radius and ulna (forearm) with some pins, and patched me up. I was in the operating room for 2-3 hours and spent the night in the hospital. I left the next morning, then went to physical therapy. At a certain point the pins came out.
It cost a total of $1,200 for the surgery and the hospital room. All the bills and other miscellaneous fees cost a total of $3,000. In total, it was $4,200. Coincidentally, a friend of mine who was riding his dirt bike outside of Arizona had an accident where he damaged his elbow. He did not dislocate his shoulder or break his forearm, and the operation cost him $45,000.
If you go to a public hospital here in Panama, medical bills are even less expensive, but the wait time is extremely long. It's socialized medicine if you're going public, but if you're going private, it's "right now." I got in that night with the best surgeon in town, and I was out the next day. My experience personally has been very, very good. In fact, I once told my daughter who's now 45, "The nice thing about Panama is that you can afford to be sick here, unlike in the United States."
In Panama, it's extremely difficult to get into the public education system to become a doctor. Only 1 or 2 out of 100 will get through their first year of medical school because it's very rigorous.
(Hospital Chiriquí, David, Panama, pictured.)
Posted March 18, 2017