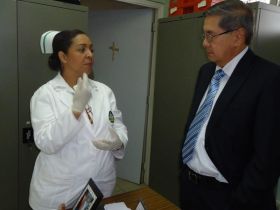 Panama has a lot of American-trained doctors, but most of our doctors are either trained in our national university, which is very good, or in Cuba. Cuba has the reputation of having and producing the best doctors.
My sister was born in the US, and I think that when people in the United States hear that doctors are trained in Cuba, that does not give them confidence, because Cuba is an extremely poor country, so they think, "How could they have good healthcare?" Despite that, I still strongly believe that Panama has very well-trained doctors.
Doctors who are trained in Cuba, even though Cuba has been a closed country to the rest of the world, have had education that has always been one of the best in Latin America. Students who come from Cuba and study in Panama are so knowledgeable, maybe because Cubans have nothing else to do basically but study all the time. Education in Cuba is free, so Cubans have a lot of books, and a lot of time to invest in their studies. I do believe that Cubans are very well-educated.
The Panamanian National University is also considered one of the best medical schools in Latin America. Panama has very, very good doctors. Several of my high school classmates who were the best in our class found it very, very difficult because being in medical school is tough. Basically, anywhere you are in the world, it's going to be tough, but being in medical school here in Panama is tougher. If a student is having problems with just one subject and fails that subject, he automatically has to repeat the whole year. That's why graduating medical school tells you that you either studied very, very, very hard, or you're incredibly smart.
(Universidad de Panama, pictured.)
Posted December 24, 2016