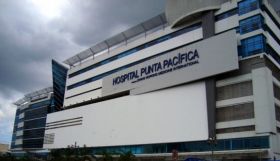 Yes, there are American trained doctors in Panama. For example, right next to where I live here in Panama City, Punta Pacifica Hospital is a very high-end hospital affiliated with Johns Hopkins Hospital in the United States. The physicians at Punta Pacifica can send emails with photos, do live streaming, and can interact on-line in real time to a doctor at Johns Hopkins to answer questions before doing a surgery.
To give you an idea of the quality and reputation of the healthcare services here in Panama City, a large union in the United States was recently in negotiations to bring their workers to Panama for healthcare services. The reason is that the prices for healthcare services here in Panama can run 1/3 of the price in the US. As a result, for example, a patient could have a hip transplant with his wife in the hotel next to him in Panama and the bill will still be 1/3 of the price in the United States. The same would be true of a heart transplant.
Having medical procedures done in Panama as opposed to in the US is a very great option because it is less expensive in Panama, with very good doctors, some of whom were trained in the US, and others who were trained in England and various other countries known for quality healthcare.
In the country of Panama, if you were in need of a major surgery, you would come to Panama City. If you have a broken leg, there are clinics and hospitals in other places in the country that can provide you good service. The same is true for snakebites and similar situations. There are smaller hospitals in each of the counties of Panama and many of the doctors travel back and forth. But from one end of the country to the other is 6 hours by car and one hour by air, so it is not a long distance to come to Panama City if you need to.
(Pictured: Punta Pacifica Hospital, Panama City, Panama)
Posted October 19, 2015