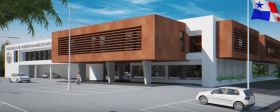 The best infrastructure for healthcare in the country of Panama is in Panama City. They have very high quality clinics and hospitals.
Once you leave Panama City, there are also good quality hospitals where you can go. There are also some clinics, which are very close to the city center.
In Chitré, where I live, we have a few private clinics and there is a public hospital that was built a few years ago. They have state of the art technology and a very good hospital infrastructure. If you live in Chitré, and say, for example, you had a heart attack or a stroke, there is an emergency number similar to 911 in the US that you could call and they respond to emergencies very quickly. We have hospitals very close by.
One of the interesting things about Chitré is that it is a smaller city, so there are no traffic jams that could cause you delay in case you have an emergency. We have very experienced doctors here in Chitré and overall, I feel safe with the health standards here in Chitré. They offer First World healthcare and they can attend to most health issues that you may have.
If you have anything more serious or complicated, you could also definitely go to a specialist in Panama City, which is about 35 minutes away by plane or around 3 hours away by car.
(Rendering of the future polyclinic in Chitre, Panama, pictured.)
Posted March 08, 2016