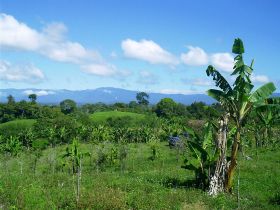 I've been in Panama on and off for 20 years. For two years, I lived in a barrio called Caledonia in Panama City, which is quite unsafe, but in every part of the world, there are parts where you can get into trouble if you're not careful. I grew up in the Los Angeles area where there are also parts that are unsafe.
Safety from an expat's point of view varies. Many expats here in Chiriquí live in gated communities and I think that is an indication that they feel unsafe, but in Scottsdale, Arizona, where I'm from, there are also many gated communities. Although there are crimes of convenience throughout Central America, I feel completely safe in Panama.
When I lived for 40 years in Cave Creek, a northern suburb of Phoenix in Arizona, I did not have a key to my house, and I never locked the door. My comfort zone in the Sonoran desert in Arizona was higher than it is here in Chiriquí. If I leave my house here in Chiriquí, I certainly lock my door, although I don't really feel at risk here.
One of the reasons that I chose to live in this small rural area in Chiriquí is because rural areas are far safer than the urban areas. Safety as an expat is a function of how well you interact with the locals. An expat is never going to be a local, however, but you don't have stand out like a sore thumb and be something that they consider an intrusion into their lifestyle.
I try to be part of the community. My Spanish isn't perfect but I certainly speak it enough to get by. I say hello to everybody and not just to the wealthy class in Central America. I give everybody rides and try to be one of the locals.
I might be considered a little eccentric because my farm is organic and everybody else sprays, and I'm very outspoken about that issue. On every other level, I'm just the type who says, "Hola! Còmo estàs,?" to everybody.
I feel safe here in a rural area in the Chiriquí Province close to the Costa Rica border. In some larger urban areas in Panama and Mexico, you're more at risk.
(Panama near the Costa Rica border, Panama, pictured.)
Posted February 28, 2017