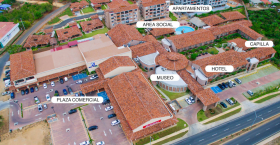 Panama in general is a very safe place. When you come to Chitré, where I am from here in Panama, you will find that it is safer compared to other places in Panama. Our development, Cubitá, is located in Chitré. If you are going to Cubitá, you will have to go through a guarded gate. The security guards will first check if you are a property owner there and if not, they will make a phone call to verify if you have the right to pass through the gate.
If you are just walking around or if you are going to the mall on your own, you don't have to worry about anything because Panama, and especially Chitré, is a safe place. In Cubitá, there are salons and supermarkets within walking distance from the villas and condos so most people just walk to these places and they don't have any problems doing that.
I used to live in Panama City, but when we started the project in Cubitá, I loved it immediately, so 4 years ago, we decided to move to Chitré, which is around 3 hours away from Panama City. I really loved Chitré so I decided to buy a home here. After 2 years of living in Chitré, I had the opportunity to work in the hotel in Cubitá. I live with my parents and I have a 9-year old daughter. I let my daughter walk around here on her own without worrying about here safety. The hotel where I work in the development is only within walking distance from my home. When I am at the hotel, my daughter just calls me on the phone to let me know how she's doing but she could definitely come to the hotel on her own. I don't have to watch her all the time. However, I don't let my daughter walk out of the development by herself. My mom goes to the supermarket on her own without my dad and there's nothing to worry about (although she doesn't have to go out of the development because there is also a market inside Cubitá). In case you really want to go out of the development and go to the mall, for example, you just have to call a taxi service or if you don't want to call, you can just hail one from the street.
Overall, Chitré is pretty safe. I can even walk downtown at night without worrying about my safety. I have never had any incidents here. My parents haven't, either. I used to live in Punta Paitilla in Panama City, and I never had any incidents of crime there, either. The only place I would worry about would be Colon but in general, Panama is a safe place to live. I lived in Italy for a year and in comparison, I feel that Panama has the same level of safety as Italy.
(Layout of Cubita development with stores and services nearby, Chitre, Panama pictured.)
Posted April 09, 2016