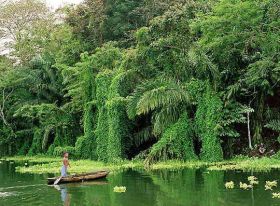 In Panama, you don't have to worry about diseases that you don't have in North America. I understand that people are concerned about that. When I left in Taiwan, I traveled to Thailand and to Indonesia, and they made me get the shot for the Yellow Fever and a bunch of other things. I know that most of the developed countries' residents get pretty much scared when it comes to these diseases that they can't control, but thank God, we do not have any of those diseases here in Panama.
They built the Panama Canal hundreds of years ago. It was built due to the fact that they were cutting the Amazons, and there were so many things that people didn't know at that time that they couldn't control. Then you have all these foreigners coming from China and from South Africa to do heavy labor at the Panama Canal. Within that, probably, the diseases may have come in the ship with them. But these diseases were controlled, and thank God we do not have that now.
I wouldn't just go into the jungle around Boquete, not because I'm scared of catching a disease, but because it's not safe wandering around the forest, especially in the Boquete area because everything looks all the same and you may easily get lost. It happened to a couple of Dutch girls last year. The girls got lost in the mountains. There was another case where Panamanians who were trying to hike the Volcán Barú, (the highest peak in Panama) also got lost while hiking on the route without a tour guide. They had to call the police and the firemen, and everyone was looking for them before they were eventually found.
(Panamanian jungle, pictured.)
Posted December 22, 2016