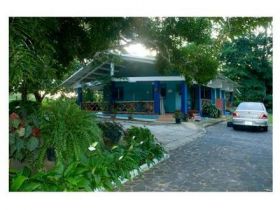 In general, I don't hear a lot of crazy things that happen in Coronado. The last time that I heard about a crime in Coronado was a crime that happened at a gas station, and was committed by a non-Panamanian. Generally, you won't see serious, violent crimes where a suspect is a local. The most that you will see here are petty crimes such as if you leave things outside your house, then someone would probably steal it.
In general, Coronado is very safe. People here are not scared to walk around, go to restaurants, etc. I don't live in Coronado but I come here every day to work. Lately, I've been taking the metro to Coronado from where I live, in Panama City. I go to the Nationwide Transport Terminal, where I take a bus and tell them that I'm getting off at El Nance, San Carlos. Then I go to sleep. The bus driver just comes and tells me, "Hey, we're at your bus stop." For me, that's the best way to travel here because I can take a nap while I'm on the way to work. I don't feel unsafe at all to sleep in the bus.
People from the countryside (places other than Panama City) are trustworthy. They are really very nice. They might not speak English but they are really friendly. I see a lot of foreigners living in the area who are taking the bus, too. It is so safe that you can even use public transportation without any fear. San Carlos is on the beach area and it is a 7-minute drive to Coronado. Coronado is in the Chame District and San Carlos is the next district over.
(House in San Carlos, Panama, pictured.)
Posted April 19, 2016