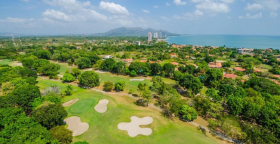 I have to answer this question as a person coming from Texas. When I still get email from my old neighborhood of the crime statistics, I look at my old neighborhood and think, "Oh, my gosh. How did I live in Texas and survive the crime rate that was in my nice neighborhood?"
In the expat neighborhood in Coronado, the typical crime is a crime of theft. If they could steal something easily as an unprotected item, that's very possible. This is no different than in Dallas, Texas.
We advise people to be mindful of just leaving things lying out, but the typical crime in Coronado is reported like no other place I've seen in the world. If someone's house gets robbed, everybody knows about it because the expats communicate so well with each other. In contrast, in Dallas, if my neighbor had his garage burglarized and they took his lawnmower, you wouldn't hear about it unless you've read about it or maybe somebody told you that it's not a big crime or it's not a big thing. In Coronado, a small theft is publicized everywhere.
So there is no such thing as an area with no crime. Homes have been robbed. The big difference is we all know about it. Compared with Dallas, the crime in Coronado is less than three times; it is much, much less, and this goes for property crimes as well as crimes against a person? Crimes against people do exist in Coronado, but Coronado is gated and apartments have their own security. With that being said, things can happen but they just don't happen in Coronado at the same frequency as in other places.
(Condos with view of the golf course and Panama City in the background, Coronado, Panama, pictured.)
Posted March 14, 2016