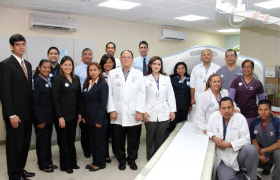 There are American–trained doctors not only in Coronado, but in other, unlikely places in Panama as well.
I went scuba diving and hurt my ear, so I had to go to an ear specialist. We did not have ear specialists in Coronado, so I went to the San Fernando Hospital in Panama City. I walked down this narrow hallway because the hospital is huge. It has been added on to so many times that you have to go through this maze of hallways to get to your doctor. I walked in, the nice lady said the doctor would be right with me, so I went to his office. On the wall is the Dallas Cowboy helmet! This doctor was trained in Dallas, at Baylor Medical Institute, and here he was, tucked into the very back of his hospital labyrinth. He knew more about the Dallas Cowboys that I did, and I'm from Dallas!
My personal doctor here in Coronado was partially training in the US. He speaks English. My doctor's visit is $15. I never even claim doctor visits on my insurance because I don't like paperwork. Many of the specialists in Panama are highly trained in the US and some doctors are partly trained in the US.
Even the ones who I've met who aren't even trained in the US are very capable. Because of the business that we run we have met lots of doctors and seen every version of how healthcare is handled here in Panama. Coronado has the San Fernando Clinic, which has an MRI, nice people, x-ray, and all the technological equipment and training necessary, and they do a great job.
People who come with some pre-existing condition are sometimes afraid about what's going to happen and ask for advice. We take them around almost like looking at real estate; we bring in and introduce them to a doctor before they even move here so they can get a comfort level of the doctor and they tell the doctor about their pre-existing condition. He then recommends other doctors who would be appropriate for that condition. They can talk to those doctors as part of their conversation of what would life be like living here, so they're not having to guess about it. I have people bring their medical drug list, go into the grocery store, find out that half of it or three quarters of it or in some cases all of it is just over the counter, versus the prescription they would need in the US. We try to introduce them into the new world of inexpensive, yet qualified doctors.
(Radiology department at Clinca Hospital San Fernando in Panama City, Panama, pictured.)
Posted March 17, 2016