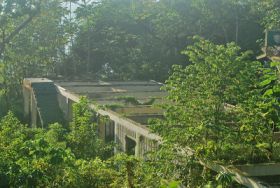 The clinic I go to, the San Fernando Medical Clinic, is right in the center of Coronado, Panama, literally 12 minutes away from where I live. The facility in that clinic is as good as any good hospital that I have been to in Sarasota, Florida, where I used to live. The hospital is clean, it's new, the staff are all in uniforms, and it is what you would expect of a decent hospital anywhere. Most of the staff and doctors in most of the medical centers here do speak English. I have not met a doctor here yet who doesn't speak English.
If you had a heart attack here in Coronado, they would stabilize you at the San Fernando Medical Clinic and take you by ambulance. They definitely have the facilities and they have an MRI unit here now. The facilities at the San Fernando Medical Clinic are better than they are at the local publicly run hospitals, which are more for the working people.
In contrast, San Fernando Medical Clinic has been set up as a private facility. The public hospitals here are run on funding from workers who pay a percentage of their wages. We also had some good experiences at the public hospital here, too. My son hurt his wrist and they took some x-rays at the public hospital here. They kept him in for 2 or 3 hours looking at it and the bill was US $54 for everything. If we went to the San Fernando Clinic, we would probably pay double that amount. In comparison to the hospital in Sarasota, Florida, where we used to live, the last time we were in an emergency, we had a 1,200 bill for a Sunday afternoon.
(The ruins of Palo Seco hospital, Hospital de Palo Seco, built in 1907, overcome by the Panamanian jungle, pictured.)
Posted August 07, 2015