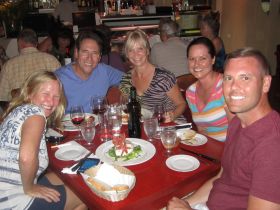 I work a lot but my work is so much fun. The environment here in Coronado, Panama is casual, laid back, and fun.
We don't have restaurants on the beach like in Puerto Vallarta, Mexico. The beaches here are mostly residential but there are more amenities and more restaurants coming. We live a full life just by what Coronado already has.
The expat community here is very supportive, too. We have associations like the Coronado Social Association that organizes events for the communities here so there is a lot to do. The proceeds for the events that they organize go to charity. Expats do a lot of lunches out, too. These lunch outs sometimes turn into a full day.
Expats who retired here in Coronado, typically, have dogs that they walk to the beach in the morning where there is all kinds of groups. There is a poker group, a group of people playing golf, and so on.
Expats in Coronado do different things. For example, if an expat knows how to sew, she will make curtains for her neighbors. Out here, somebody else needs whatever you can bring to the table.
Posted September 20, 2014