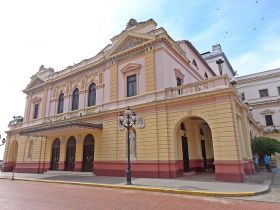 Cultural activities in Coronado, Panama range from art and craft showings, live jazz and rock bands and tango lessons to stage presentations of folkloric groups, student bands and choral groups,and full orchestras and opera from Panama City.
Opera Panama presents full scale opera productions each year at Teatro Nacional (Nacional Theater) in CascoViejo ( the beautiful old town of Panama City) and tickets are available in Coronado with private bus transport to and from Coronado mall. Prices are usually from $35 for the elegant theater box seats and $15 for the round trip bus. Group trips are arranged via CASA (Coronado Association) to museums, special events and sightseeing at the Panama Canal, Gamboa Rain Forest and many other locations in or near Panama City and Coronado.
El Valle is a popular mountain destination about 45 minutes by car or bus from Coronado, known for its crafts' market and Music Festival, presenting international artists at the church, a very prestigious event.
Music and other entertainment events are growing along the coast, and places like Finca La Maya, Los Mandarinos, Picasso's, LaRuina, Coronado Golf and Beach Club and the Coronado Equestrian Club offer music entertainment, dancing, horse shows, children's fairs and mystery theater etc.
Panama City offers an abundance of cultural events, including the International Film Festival of Panama (
IFF
), the International Jazz Festival, the World Music Festival and
PRISMA
, the International Contemporary Dance Festival, among many others.
Remember that transportation by bus or car is very simple from Coronado, and seniors and residents get 30-50% hotel discounts and 25% off restaurant bills.
Visitante
(the Visitor) weekly paper (distributed free at most locations in the city and coast) and Playa Community (Beach community newspaper or online) list all info on events. Finally, membership with the American Association (
AMSOC
), The Canadian Plus Club, the Alliance
Francais
(and so on for all nationalities that have consulates in Panama) opens up world's of opportunities to cultural events.
(Pictured:
Teatro Nacional, Casco Viejo, Panama.)
Posted December 01, 2013