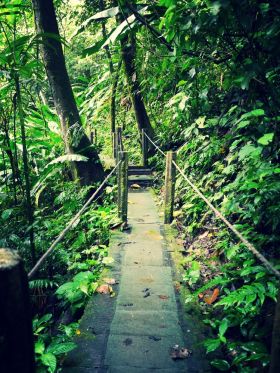 There are so may cool things that you can do in Coronado. You can go deep-sea fishing. You can also go surfing, as there are surfing beaches all along the coastline. You can also go power boarding all over. You can even go up to the little islands off the coast. There is loads of hiking around the surrounding mountains.
If you want to venture out on a 2-hour day trip, you can go to Gamboa (1.5 hours away from Coronado by car), where you can see some local tribes, and go to some terrific tours. You can go fishing on the Lake Gatun where you can catch a load of fish.
There is also a lot of golfing here, around Coronado. There is also tennis and there are people who can teach you how to play tennis if you are into that. So if you don't want a dull moment, you can be busy doing things.
(Pictured: Hiking in the mountains up from Coronado, Panama.)
Posted April 30, 2016