There are lakes and beaches, of course, in Coronado, Panama. I do not think there's a river or a waterfall.
(Man-made San Carlos Lagoon, outside of Panama City, pictured.)

If you live in Coronado and want to see rivers, lakes and waterfalls, you could go to Chame or San Carlos, which are also in the same area. Chame is a 15-minute drive from Coronado. It is in the same district that covers the area of Gorgona and Coronado. Chame has rivers and lakes. It also has a small airport, but it does not accommodate commercial flights, just private ones.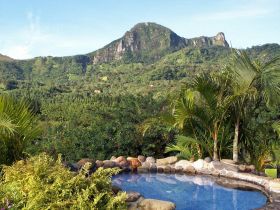 You can also go to Altos del Maria from Coronado, which is a little bit further, but still close enough. Altos del Maria is about 25 minutes from Coronado. To get there, you go up to the mountains, so you could go from the coast (which is where Coronado is), and then your drive your car uphill. Altos del Maria is a gated, mountain community. Inside that community, you will find rivers, waterfalls and mountains. You can see both Pacific and Atlantic Ocean from one of the highest points in Altos del Maria, where there is a lookout.
(A view from the mountain development of Altos del Maria, pictured above.)
Posted March 09, 2015