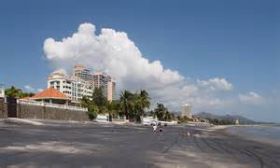 There are plenty of jobs in Coronado. The problem is the government supports this ideology of giving welfare to the people. It happened to me when I came to Coronado. I tried to hire someone local but it was very tough. I spent almost two weeks to hire someone who speaks English and someone who has a knowledge of sales. It was very, very complicated. People sometimes do not want to work at all. Most of them are very lazy.
A couple of years ago, we hired someone local here. And she was always at home. She just told the security guard to call her if someone comes to the sales office and she will come! So in general, there are lots of jobs in Coronado but hiring people is difficult because you have to prioritize hiring the locals but some of the locals are becoming lazy and they don't want to do the job. They prefer to be in an office with air-conditioning, and earn a thousand dollars just like that. That's the reality in Coronado. The salary here is not the best but people are willing to pay you if you do a good job.
That's is why we bring people from Panama City who are tired of the traffic there and we just pay them a little bit more in order for them to come over. There are lots of foreign people here in Coronado, such as Venezuelans and Colombians, who are looking for jobs and they have good resumes but they don't have work permits. There were several Venezuelans who applied for jobs in our office. They had good resumes and they speak English but the problem was their work permit, so I couldn't hire them. That happens in Panama City as well. There are lots of jobs that Panamanians do not want to take and the ones who are willing to apply are Venezuelans and Colombians who really need the job.
The main thing about the economy of Panama right now is the job issue. It is not because there are no jobs. The problem is that Panamanians do not want these jobs because the government pays you welfare if you reach 70 years old. If you have kids in the school, they also pay for your kids' education. If you can prove that you are poor, the government will give you money. To me, it is a bad idea and I don't like it at all.
In general, there are plenty of ways to make money here in Panama. The economy is not that bad at all. It is in fact, really good. If you want to earn money, there are different ways to make it such as marketing, blogging, teaching English, and many, many others.
(Homes along the beach, Coronado, Panama, pictured.)
Posted May 10, 2016