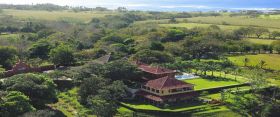 Most of the expats who live in Pedasi are about 50 years old and up and are retirees from North America. Most of them are married. Younger people come to Pedasi on holiday; they don't live here.
The expats in Pedasi are absolutely a happy group of people. They usually go out, they have their own mobile phones, and some of them have little businesses, too. They put out little shops or others go into real estate. They build schools that teach English. Others teach scuba diving. Expats mix well with the locals, and they are very welcome. Some of them help in community activities like cleaning the beaches and other kinds of volunteer work. These efforts are appreciated by the locals.
Expats are treated very nicely by the locals in Pedasi. Everyone here is very helpful. Only about 30% of the expats in Pedasi speak about 40% Spanish; they don't really try that hard. But the locals here try to speak some English.
If I were pressed to find something to say about any resentment the locals may have towards the expats in general, the only type of resentment that I would say exists is because of having expats in Pedasi causes the real estate prices to rise beyond what a local is used to paying for it or an afford.
Posted September 04, 2014