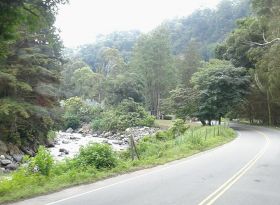 The expats in Volcan are very different than the expats in Boquete. In Boquete it's all about the social activities - and there are many. There are 60+ restaurants, live music 3-4 nights a week at multiple locations, hiking groups, photography groups, many charities and volunteer activities. There are also activities like bridge, poker, other card games, karaoke, art shows, etc., etc., etc. And higher prices in Boquete.
In Volcan there are significantly fewer social activities and volunteer or charity activities. The expats in the Volcan area are perfectly happy with the slower pace of life and the much lower prices than Boquete. There is live music at one location once a week. There are fewer restaurants. Food prices are more affordable than Boquete probably because you are so close to the source in Cerro Punta.
Boquete has 25,000 to 30,000 people where Volcan has about 12,000 to 15,000, so it just feels less crowded in Volcan.
I would estimate that food and housing costs are about 20-30% less in Volcan compared to Boquete.

The expats in Volcan enjoy pot luck dinners and a Netflix movie with friends or meeting for lunch.
The views in Volcan are very different than Boquete. In Boquete, the town is in a valley with mountains surrounding you. Volcan is on a plateau with rolling vistas and mountains in the background. They are both exquisitely beautiful but in different ways.
There is something for everyone in Panama. No matter what lifestyle you prefer, or what budget you need, Panama has it!
(Volcan, Panama, pictured.)
Posted June 04, 2017