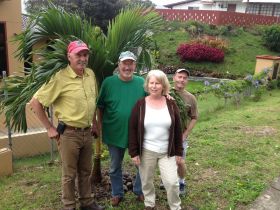 My experience with the expats in Boquete is that, overall, they are very friendly and welcoming. They'll give you information if you're a new person here. You can ask anybody on blogging sites or in person. They will talk to you for as long as you need to talk to them for any kind of information. So that's the first level of it.
The second level of it is of course there are people here from all different beliefs here, including political beliefs and religious beliefs, so it's a microcosm of the world around us. As a result, you will be able to find people who have the same kind of mindset and belief system that you may have and maybe they are the kind that you can be friends with, so it's easy enough to find people to be friends with and to relate to.
One of the other things I've noticed, especially in the last two years, is that we are getting not only the retiree population, but we're getting a lot of the younger people. I know people in their 20s and 30s moving here who have young kids. A lot of them are either sending their kids to the international school here or they are home schooling. There are people who are in their 40s and 50s like my partner and I, and others who are opening up businesses.
A lot of the expat businesses are doing a lot better on average than the Panamanian businesses. The reason is that they have a different approach, so as the emphasis an expat will put on customer service and being able to setup and follow processes. People coming from the US, Canada, and Europe have historically just been better at those kinds of things. Panamanians are at a disadvantage as a group and they're trying to catch up but they haven't quite caught up to it yet.
(Expats gift a tree to Casa de Montana, Boquete, Panama, pictured.)
Posted March 22, 2016